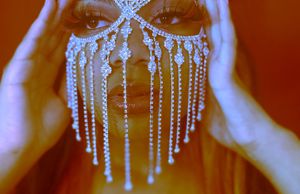 god·​dess ˈgä-dəs 
1: a female god 
2: a woman whose great charm or beauty arouses adoration
Taylor Rae Roberts (born July 23, 2004), better known as Miss Taylor Rae, is an American rapper, singer, songwriter and entrepreneur born and raised in Cincinnati, OH.
Taylor has been writing music since she was 12-years-old, but didn't begin recording until 2021 when she recorded her first EP titled, '23'.
Shortly before releasing her first EP, Taylor launched her own herbal beauty brand, Princess Mudd Herbal Hair & Skin Care, and currently helps run the company along with her mother (Erica) and brother (KJ).
In 2022, while working on her second musical project (a mixtape to be titled 'Dream Girl'), Taylor finished high school and walked the graduation stage with the rest of her classmates at Northwest High School in Colerain, OH.  Later that year she would begin her freshmen year at Ohio University and begin working on her second EP titled, 'Pageant Girl',  which was released December 23rd, 2022.
Currently, Taylor is working on new music for 2023 while also preparing to compete in the 2023 Miss Ohio pageant.